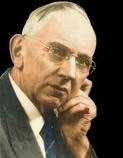 Edgar Cayce predicted that the Great Lakes would empty into the Gulf of Mexico in the future and that ancient repositories would be discovered when people reached the appropriate level of consciousness. The three repositories mentioned are Egypt, the Bimini area, and the Yucatan.
"The earth will be broken up in the western portion of America. The greater portion of Japan must go into the sea. The upper portion of Europe will be changed as in the twinkling of an eye. Land will appear off the east coast of America. When there is the first breaking up of some conditions in the South Sea and those as apparent in the sinking or rising of that that's almost opposite same, or in the Mediterranean, and the Etna area, then we many know it has begun."
"If there are greater activities in Vesuvius or Pelee, then the southern coast of California and the areas between Salt Lake and the southern portions of Nevada, we may expect, within the three months following same, inundation by the earthquakes. But these are to be more in the Southern than the Northern Hemisphere."
Read more »